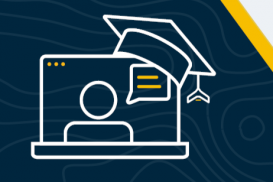 elearning
000. senseFly Certified Operator
There is no description for this curriculum
Learn about a company that is enthusiastic about innovation and beliefs in new technologies to improve not only the worker's life and safety, but also his outputs.  This we will do by going through the story of senseFly, it's product evolution and some examples of real-world applications. 

Learn about the aerial mapping workflow and the factors influencing your project. 

Learn about the different parts of eBee X, how to assemble it and other material you find in your senseFly fixed wing kit. 

During this second course of the mapping module, we'll give you an overview of the flight planning and monitoring software eMotion. By the end you should already be able to do a simulate a simple flight plan. Time: 30 minutes

Principles of aerodynamics around the eBee platform, including the flight phases (take-off, climb, cruise, descent) as well as structural limitations. Time: 35min

Principles of the eBee's automatic flight via waypoints, including their types and definitions. Differences in height references and their importance to conducting safe operations. Time: 30min

Principles of photogrammetry and how the planning and execution of data collection influence data quality. Time: 30min

A course detailing the different methods on how to obtain absolute accuracy and the strengths and limitations unique to each method. Time: 30min

This course provides general guidance on the current regulations related to the use and operation of senseFly eBee drones. Following topics will be covered:         Airmanship         eBee compliance          The rule-makers         SORA Process         Airspaces         Tools in eMotion         Time: 30 min

Learn how to define project parameters and plan each flight. This includes an assessment of the airspace and regulations as well as any environmental conditions that can influence data capture. Time: 35min

This course covers hardware preparation and general inspection principles, such as performing system integrity checks and packing suitable quantities of spare parts and batteries. Time: 30min

Since the pre-flight phase is crucial, parts of the preparation phase are being repeated. Followed by the launch, flight and flight monitoring, as well as landing, including immediate post flight procedures. This covers all important details for normal flight operations and conditions. Module 6 will handle in detail contingency plans and troubleshooting. Time: 25min

Importing the data, data management and storage, as well as treatment of the hardware after the flight, are being discussed in this module. Time: 25min

This course offers insights on the workflows for each camera available with eBee X. Only  ONE has to be completed, the others are optional and also remain available for you to come back to in case you get a another senseFly camera one day. 

This course covers various contingency plans and options available to operators in the event of abnormal and/or unintended flight operations. Time: 30min

This course covers various contingency plans and options available to operators in the event of abnormal and/or unintended flight operations. Time: 25 min

Learn how to perform proper maintenance procedures for the eBee X fixed-wing drone, along with other important integrity checks that are critical to safe and successful missions. Time: 30 min

Register for one of the online instructor sessions with a senseFly trainer. This 45-minute session is an open forum discussion for up to 5 attendees and shall give you the opportunity to clarify any questions you have. This session is mandatory before being able to complete the exam. Live Q&A sessions are available every week on: Thursday 9:00 - 9:45 / 10:00 - 10:45 (GMT+1) Thursday 15:00 - 15:45 / 16:00 - 16:45 (GMT+1) Pick the most suitable time slot below:

To receive your certificate as a certified senseFly operator Upon completing the online modules and senseFly Certified Operators must complete an evaluation exam. A score of 80% or higher is required to pass the exam. NOTE: Before you get started update your profile as the automatically generated certificate will pull name and company from there.